FDA DSCSA Standards for Interoperable Exchange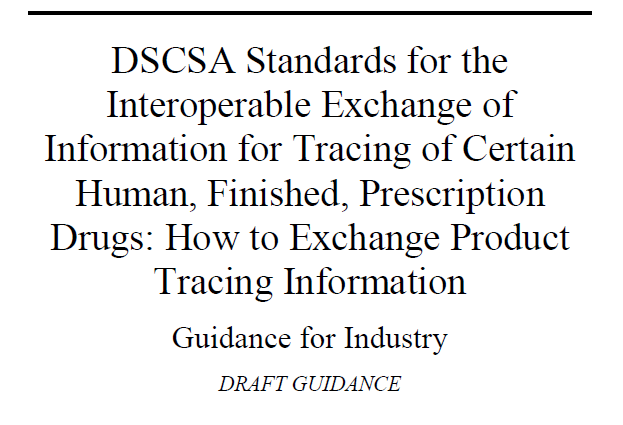 Things to Know: Standards for Interoperable Exchange
FDA met its DSCSA mandate by publishing a Draft Guidance, "Standards for the Interoperable Exchange of Information for Tracing Prescription Drugs", on November 26, 2014.
The brief document offers little that will address the challenges of interoperability and does not address many of the concerns that industry has raised. The FDA DSCSA guidance summarized currently used methods of information exchange, from paper to electronic, and categorized them as suitable "interoperable" exchange methods.  The guidance reinforced the status quo, recommending that trading partners continue to use available methods.
Things to Know:
FDA positioned "interoperability" as the ability to exchange product tracing information accurately, efficiently, and consistently among trading partners. Therefore the subsequent purchaser must be able to successfully capture and maintain the product tracing information, regardless of whether the information is provided in a paper or electronic format.
FDA did not endorse a singular method of interoperable exchange. Instead the FDA specifically recommended that trading partners use currently available methods.
FDA listed acceptable, current methods, including:
paper or electronic versions of invoices;
paper versions of packing slips;
Electronic Data Interchange (EDI) standards, such as 856 Advance Ship Notice (ASN), which is currently used to provide the receiving entity with advance data on shipments;
EPCIS (Electronic Product Code Information Services) which defines a data-sharing interface that enables supply chain partners to capture and communicate data about the movement and status of objects in the supply chain
FDA recognizes that time is short, and although the guidance is marked draft, the FDA will be implementing the Draft Guidance. "Because the DSCSA clearly intends for stakeholders to rely upon this draft guidance document before finalization, however, FDA is immediately implementing this document under 21 CFR 10.115(g)(2)".
FDA intends to issue additional guidance to facilitate the interoperable exchange of product tracing information through "standardization of data and documentation practices"
 Download the published standards: DSCSA Interoperable Exchange Standards.
---
---