HDMA seeks enforcement leniency for DSCSA non-compliance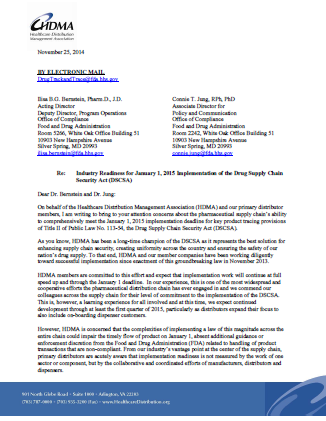 HDMA urges FDA to Exercise Enforcement Discretion
The Healthcare Distribution Management Association (HDMA) recently wrote the FDA and expressed their concern about the pharmaceutical supply chain's ability to meet DSCSA Phase I compliance on or before January 1, 2015.
HDMA expressed concern that the complexity and disruptive nature of the DSCSA law could exacerbate supply shortages.
HDMA urges the FDA to "exercise discretion in enforcement activities where necessary to ensure patient access to medicines"
Objective is to keep patient interests in mind and prevent potential drug shortages and disruptions in patient access.
See: HDMA letter to FDA
---
---