Shortage of Saline Solution may Threaten Hospital Patients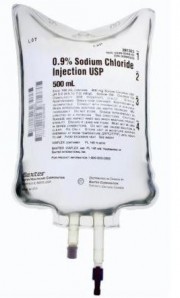 The FDA recently warned health care providers of a shortage of saline solution used for intravenous (IV) solutions, such as 0.9% sodium chloride injection.  A number of factors are contributing to the shortage including a recall of multiple lots of Saline and high demand by hospitals, possibly triggered by patients exposed to the flu.
Baxter recalled four lots as well as one lot of 5% dextrose injection, in December of 2013, after particulate matter was discovered in the solutions.  Hospira recalled a lot of saline in April of last year after a customer found four single particles in a container. The particles ended up being polyester fiber, nylon fiber, cotton fiber, and nitrocellulose fiber.
The FDA is aware of the shortage situation and is "working with the three manufacturers of these products, Baxter Healthcare, B.Braun Medical, and Hospira, to help preserve the supply of these necessary products."
See also:  FDA announcement, Baxter Healthcare Corp, Hospira Inc.
---
---